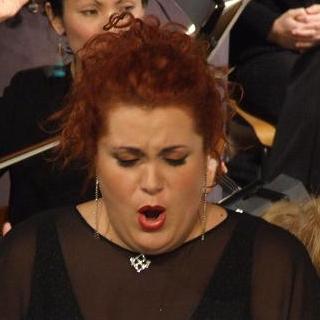 Orsolya Kirkósa was born as Hungarian in Transylvania (Romania) but her roots go even back to Armenia, in a very musical family. Her aunt Julia Kirkósa was a famous soprano in Kolozsvár (Cluj). Orsolya Kirkósa, too, was brought up in Kolozsvár where the family frequently attended performances of the Hungarian Opera and the Romanian Opera. She graduated from the Musical High School and later she studied at the Gh. Dima Academy of Music. She took her state exam with the part of Rosalinda in "The Bat" by J.Straus jr. She remembers gratefully her aunt who follows her musical development at all times.
She followed opera classes with Dan Serbac, Júlia Kirkósa, Ágnes Kriza and Angela Nemeş. Afterwards she also followed masterclasses with Georghe Rosu, Maria Teresa Uribe, Ionel Pantea, Katalin Pitti, Anna Reynolds, Dénes Gulyás, Jean Henny, Julia Hamari, Renato Bruson, Zsuzsa Misura. She received the scholarship "Annie Fischer", and a scholarship from the Hungarian Wagner Alliance for the participation in the Bayreuth Festival. In the International Singing Competition in Miskolc (Hungary) she was awarded the 4th prize in 2003.
More recently she was mentored by Béla Perencz.
Finishing her studies, she could not get opportunities to get on the stage at Kolozsvár, and after attending the Majk summer master course she moved to and settled in Hungary where she taught private pupils for some time. With the Cracow Opera House she was on a tour in Germany singing the part of Tosca. She became member of the Budapest Opera House where she soon was casted for soloist roles. The audiences and the profession took notice of her voice in earnest when she appeared in the role of Erzsébet Szilágyi in the opera László Hunyadi by Ferenc Erkel. She scored a success as Odabella of the opera Attila by Verdi first at an open-air performance at Margaret Island and then at Debrecen. And when she made her début as Lady Macbeth, her star rose. She sang the role of Odabella in Verdi's Attila on the Margit Island (Budapest) and later also in Debrecen.
Orsolya Kirkósa performed on stage as Rosalinde in Johann Strauss' The Bat, Tosca in Puccini's Tosca, Szilágyi Erzsébet in Ferenc Erkel's Lászlo Hunyadi, Odabella in Verdi's Attila, Lady Macbeth in Verdi's Macbeth.
She sung solos in many oratoriums like Requiems by Verdi, Webber, and Leoncavallo, as well as famous pieces like Beethoven's 9th symphony. She performed on tour in several countries, like Germany, Israel, Great Brittain, Netherlands, Czech Republic and in Argentina where she sung in Teatro Colon in Buenos Aires.
Currently, Orsolya Kirkósa lives in the Netherlands, in Maassluis.